Christmas is just days away and I'm still not done shopping! The last items on my list are always the small things...the little add-ons to the big gifts I've already purchased. Here are a few of my favorite last minute stocking stuffers.
Beauty
For the fashion savvy ladies out there, one of my must have nail polishes comes from Deborah Lippmann. Her polish is beautifully pigmented, high quality and super quick drying. You can buy them at department stores like Nordstrom and Bloomingdales, or you can purchase them online from
www.lippmanncollection.com.
I recently bought this gorgeous blue/green glitter shade named Across the Universe, and also adore the gold version called Boom Boom Pow. It helps that the names of each color are super fun!
Tech
If the guy in your life is anything like mine, his phone is constantly running low on battery. I saw these handy and handsome chargers in the J.Crew Men's Shop last weekend and thought what a great stocking stuffer they would make. They do come in a variety of colors, but are not currently available online. Check out your local mall to pick one up, or for a plainer but no less useful version, check out the
ultimate smart charger
on Kitson.com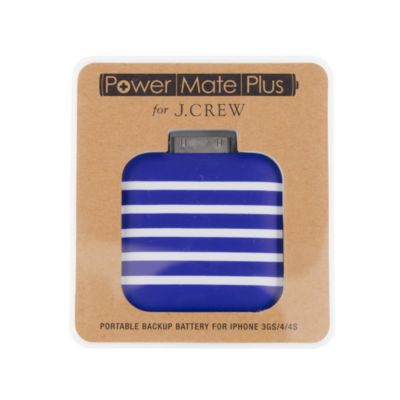 Kitchen
One of my favorite little kitchen tools is my fresh nutmeg grater. I got mine at Crate & Barrel years ago, but this one is from
Bed, Bath & Beyond.com.
This is such a handy item and you could certainly use it to grate small amounts of zest from lemons and limes. The bottom (black) portion catches everything you grate for easy pouring into recipes.
Bathroom
For those bath lovers out there, check out
Lush.com
or your local brick&mortar Lush store for the most deliciously scented, smooth as silk and bubbly bath bars. My favorite is the Rose Jam which has an incredibly strong, sweet rose perfume and can be split in half for use in two sleep inducing baths. Bonus: you'll smell like a flower for the rest of the night!
Enjoy the rest of your shopping and remember the best gifts are always the ones that come packed with love!